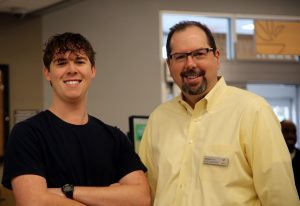 WGMU General Manager Matt Dotson (The Nice Guys, Up to Eleven) had the opportunity to tour the brand new Giant Food Grocery Store in University Mall on February 7th, two days before the grand opening on the 9th. You can hear the report featuring exclusive audio of the store managers below. With ID, all Mason students receive a five percent discount at the store through the end of February 2017. Thank you to Giant for the tour, and supporting the Mason community!
Pictured: Matt Dotson and Community & Public Relations Manager Jamie Miller. Photo by Lottye Lockheart.

This work, unless otherwise expressly stated, is licensed under a Creative Commons Attribution-NoDerivs 3.0 United States License.