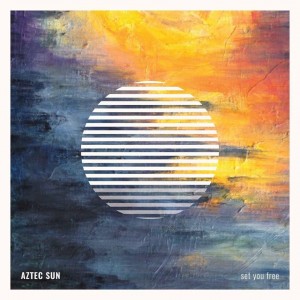 DC-based funk band Aztec Sun joined Local Music Director Jackie Reed, Friday, November 4th, on WGMU Radio to talk about their EP, "Set You Free", coming out this December. The 8-piece ensemble is a coming together of multiple musical disciplines, a creative space for them to express their sound as everyday virtuosos. Their tracks go beyond the funk scene in DC; they mix soul, jazz, Motown, blues, and much more. Their harmonious lyricism combined with electric guitar lines and popped-out piano chords makes for a great listening experience. Aztec Sun is a musically adaptive collective of artists melodically embracing their talents through personable concert sessions and community events along the U Street district. Their upcoming EP will have an exciting selection of songs dedicated to the members' various skills and talents, a physical expression of their interwoven experiences as refining artists and individuals. Prepare for a change in innovative style, something way beyond their storyline classics "Confuse Me" and "My Way Home", a "Revolution" in musical form and level, if you will.
Below includes the clips of the live on-air interview with Aztec Sun, in addition to stripped down performances of their songs:
Pt. 1 of Interview:
Pt. 2 of Interview:
Intro & Confuse Me:
Revolution:
My Way Home & Conclusion:
See Aztec Sun live at the following dates and times:
Thursday, November 10th, at Boundary Stone DC, starting at 6 pm. FREE – https://www.facebook.com/events/990819387693241/
Friday, November 11th, at Blue Side Tavern in Frederick, MD, starting at 9:30pm. With SoulXChange. Tickets are $5 – http://thebluesidetavern.com/event/soul-xchange-tbst/
Friday, November 18th, at The Camel in Richmond, VA, doors open at 8pm. With Dance Candy. Tickets are $10 – http://www.thecamel.org/event/1378636-kings-cookout-dance-candy-richmond/
AZTEC SUN EP Release Party – Saturday, December 10th, at Songbyrd Music House & Record Café in DC, starting at 9pm. – https://www.facebook.com/events/586446421547903/
Social Media Sites:
Soundcloud: https://soundcloud.com/aztecsunband/
Bandcamp: https://aztecsunband.bandcamp.com/
Facebook/YouTube: https://www.facebook.com/aztecsunband/ / https://www.youtube.com/channel/UCC6KZ5ND7_hGgECRYZnJlsg
Twitter/Instagram: @AZTECSUNBAND / @aztecsunband
Website: http://aztecsunband.com/

This work, unless otherwise expressly stated, is licensed under a Creative Commons Attribution-NoDerivs 3.0 United States License.