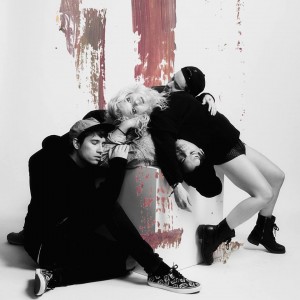 L.A. based band Transviolet is one indie ensemble that is taking the pop revolution by storm. No less than amateur, their upbeat Cali-style classics, mixed with their dark demeanor, is an updated collection up against seemingly alliterated sounds of pop, Top 40 "hits". Now on tour alongside LANY, coasting through the East Coast, The Kinda Tour connects viewers and ticket-buyers to a colossal experience, abundant of their underground sound that challenges the genre of modern pop. There is no perfect way to define the extraordinary, undeniable talent of Transviolet. Their limited selection of songs leave listeners in awe, curious, and eager for a new album or future collab. Songs like "Girls Your Age" is a sexy song reminiscent of relationships, innocence, and human emotion that anyone can reflect on. Noted by artists like Katy Perry and Harry Styles, "live life while you're young, honey/don't go chasin' love, chasin' love" is one of the many messages representative of Transviolet's sultry and haunting vibes. Aside from the powerful sound, they revolutionize the pop genre with lively tunes like "New Bohemia" and "LA Love", bringing joy and easy-going energy, along with realistic and vulnerable meaning, in a contrasting fashion.
See Transviolet opening for LANY, live at 9:30 Club, Monday, October 24. Doors open at 7pm. Tickets are $20.
Link to show: http://www.930.com/event/1227929-lany-washington/
Transviolet's "Bloodstream"

This work, unless otherwise expressly stated, is licensed under a Creative Commons Attribution-NoDerivs 3.0 United States License.