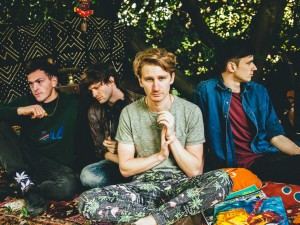 Hailing from Oxford, England, Glass Animals are a psychedelic meets alternative meets indie rock band but they would happily tell you that they're genre-less. Following their breakout success of their debut full length Zaba in 2014, the group released How to Be a Human Being August 26th earlier this year. The new album has a clear upbeat tempo and an early 2000's R&B/Hip Hop style. With  tracks including a 36 second rap titled "[Premade Sandwiches]" and a clear influence of the Red Hot Chile Peppers on their track titled "Poplar St." the new album brings every type of sound and style to the stage. Glass Animals kick off a full US run with an appearance on Late Night with Seth Meyers and will be playing with Pumarosa at Echostage on September 25th. Expect a night with a lot of dancing and chill vibes as they play hits like Gooey, Life Itself, Pools and Season 2 Episode 3. Fans of Chet Faker, CHVRCHES, and MØ will enjoy their eclectic blend of synths, bass and drumbeats.
Where: Echostage Washington DC
When: Sunday September 25th @ 7PM
Where to buy: Ticketmaster

This work, unless otherwise expressly stated, is licensed under a Creative Commons Attribution-NoDerivs 3.0 United States License.